Welcome to the Free Music Archive
"It's not just free music; it's good music."
This year we've curated 3 albums for the winter season to showcase the remixing events we hold each year during December.  Winter Lights is an 18 song collection of uplfting seasonal tracks.  Winter Nights is a 13 song collection of remixes that say humbug to the holidays.  And Christmas Hope is a collection of curated songs by ccMixter artist Snowflake.  All three releases are available at Bandcamp, TuneTrack and Jamendo.  All remixes are available under Creative Commons licenses.
We've uploaded a few tracks here and hope to inspire FMA artists to join in this year's remix event "Under The Tree."  We love collaborating with the Free Music Archive and wish everyone a great season of new music to end the year and begin 2018 with some original music that will add to the collection of cc holiday tunes.
Get the full albums at Bandcamp
Visit our Under The Tree remix event!
Via ccMixter » Visit Blog
» 0 COMMENTS
cheyenne_h on 12/08/2017 at 02:33PM
Need a holiday music fix? We've gone through and added some more music to the "Christmas" category! There are now more than 300 songs that fall into that category (some traditional, some not so much) and we are delighted to share them with you! 
Also, for those of you who don't celebrate Christmas, but know of CC-licensed songs that celebrate other holidays: please send them to us (or write some and submit them)! We want to expand our holiday category to be more inclusive. Got a secular holiday carol for us? Or a traditional song that honors a different holiday? Perhaps a Hanukkah or Kwanzaa or solstice song? Or, heck, something that celebrates Arbor Day or Diwali? Let us know! We will gladly add genres as they become applicable to our collection. (Also, if there are already songs that fall into other holiday categories, forgive our oversight - comment below or send us an email.)
For now, feel free to peruse our holiday selections!
» 0 COMMENTS
massdist on 11/28/2017 at 01:35PM
Let us celebrate my hero, Jonah Rapino.
His music is light years ahead, I'll explain.
Jonah, I think, is a musical visionary, in that, he see's music, and this includes an advanced mind when it comes to writing, arranging, producing, performing, editing, the whole nine. I've sat beside him many times making records, and to see him sculpt the sound, hearing things that you can't hear, creating future music, has endlessly inspired me. And let it be known that Jonah is my partner here at Mass Dist so bear with my bias. But his body of music represents boundless creativity and forward thinking. Within these projects Jonah has experimented with live quadrophonic sound, DIY visuals, theatrics, costumes, string ensembles, electronics, etc, and his sublime production. He was way ahead of, not only his friends, but the scene, in general. And best of all - the music. Jonah is a violinist, so prepare to be entertained by violin over beats, people. He's trying new things. Curently, Jonah has moved on to Ethiopian Orchestras, Big Time Movie Soundtracks, and his beloved Devil Music, but maybe if we scream loud enough he'll humor us with new diy recordings. Jonah! Jonah! Jonah!
And now, on the Free Music Archive, Jonah Rapino's Complete Mass Dist Works:
New Millenium String Ensemble 1
New Millenium String Ensemble 2
Adventures In Flying Soundtrack
and
ALL HERE AT MASS DIST
Via Mass Dist » Visit Blog
» 0 COMMENTS
dhf510 on 11/15/2017 at 10:32PM
Manifest Destiny was a labor of love. Or of falling out of love. I funneled my emotions from a turbulent time of self-reflection into an album that I feel deeply connected to. If nothing else I think one can say that it's sincere. Along the way I felt the urge to document moments that captured the mood of the record, which turned into snapshots of each song and eventually what I have to present to you now: Manifest Destiny, the film. It's somewhere between a home movie and an art film; just as experimental as the album. These are vague allusions to the memories that inspired these songs meant for background play as you listen to the album.
You can watch/listen to it here: https://www.youtube.com/watch?v=m6JAp43G1bc
Thank you.
» 0 COMMENTS
Song Of The Day Podcast: SUBSCRIBE TODAY!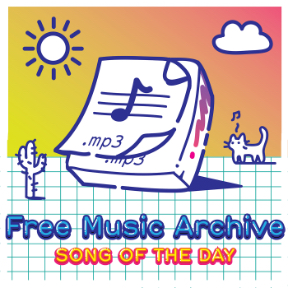 Hop over to iTunes and subscribe today to our long-running Song of the Day podcast! A Creative-Commons licensed, curated song for you to listen to every weekday. You can also find them via our Twitter & Facebook feeds every morning.